Liemers Verleden
Archaeology
English
Archeology in the Liemers
These pages give an overview of the archeological finds in the Liemers, in addition to information available in the archives via the links below:
www.liemersverleden.nl/sald
The Liemers is situated between the rivers IJssel, Oude (Old) IJssel and the Lower Rhine with the cities of Arnhem in the west and Doetinchem in the east. The national border between the Netherlands and Germany is taken as the modern boundry. For further information, see A. Tibus Der Gau Leomerike und der Archidiakonat von Emmerich, 1877.
The area was probably a part of Hamaland, whose residents, the Chamaven, were mentioned by Tacitus , a Roman writer. At its largest, in the early Middle Ages, Hamaland extended from the Lower Rhine to the Zuiderzee (now called IJsselmeer). Leomerike, referred to in 838 AD is probably identical to the modern Liemers, in 970 AD it is called Liemerscha, while it was not until the 13th century AD that the area was referred to as the Liemers. While there are several entries to it in Mediaeval documents, there is confusion as to which of these villages or cities in these entries are related to places in the area of the Liemers today. Moreover, the area border of the Liemers also changed overtime, this was dependant upon which of the two Dutchies Kleve or Gelre it was affiliated to.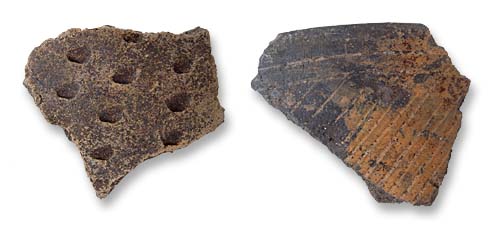 Above: a small collection of sherds from hand-made pottery (middle to late Roman age, Wehl-Grotestraat)
The terrain toke its shape before the last Ice Age. The hill of Montferland being formed by prior glacial action, is surrounded by land which is difficult to cultivate. The sand coverage connects Didam and Wehl to Montferland. This sand, blown away from the Montferland area, is also seen as a deposit lying over previous clay sediments from the rivers Lower Rhine, IJssel and Oude IJssel. In this way the Montferland complex and surrounding deposits appear as an isolated feature within the river deposit clay area.
The number of archeological finds from different time periods gives an indication of the long lasting human habitation in the liemers.
Our website is constantly under development. So, please come back on a regular basis.


Back to the previous page